By Fabricators, For Fabricators
D.J.A. has been partnering with you, our valued industry partners, for 20 years. But where did it all begin? In 1982, Joe left Italy for the United States, where he soon met Gina and they embarked on this journey together. With a strong work ethic and personal drive to achieve the American dream, they opened Pietrocola Iron Works, a successful, small business, fabrication shop in New York City. Using the most important social platform of its day, strong word of mouth recommendations, the company grew. But, Joe wanted to bring his valued clients more. More choices, more designs, more than was available in a catalog. A different experience.
While their family grew to include three sons, Joe and Gina combined his skill, passion and industry knowledge with Gina's background of teaching, providing training, and personalization; in 2001, D.J.A. was born. Today, D.J.A. has among its goals, a mission to continue to deliver real value beyond the pages of our catalog: personalized communication, trade expertise, strategic sourcing for quality and consistency, and education.
We thank you all for partnering with us on this journey and look forward to continue to help you grow your business, by providing you and your clients real value beyond the pages of our catalog.
Share your small business story with us. We would love to hear about your journey, and how best we can assist you.
Milestones in Our History
1976
The Apprentice
Just a teenager, Joe leaves his hometown of Casamassima, Bari in Southern Italy, for a work opportunity with his brother's well established and recognized iron works company in Dorno, Pavia in Northern Italy. He spends the next six years learning stair layout, forging, building windows and ornate entry doors, working on structural projects, and building sliding gates/doors using appropriate hardware.
1982
Coming to America
Joe arrives in New York City. He meets Gina. While working various jobs, he begins moonlighting as an independent fabricator out of his in-laws' garage in the Bronx, designing and building railings, gates, and doors.
1985
1985
A Home for Pietrocola Iron Works
A Home for Pietrocola Iron Works
Within a few years, Joe's clientele grows and he takes Pietrocola Iron Works full-time, opening a shop space in Mt. Vernon, just north of the Bronx.
During the next several years, some projects that were entrusted to his hands and custom workmanship include:
Restoration of the famous Plaza Hotel canopies
NAFINSA Securities entry door, railings, window guards, canopy
Structural refacing at Broadway's Winter Garden Theatre
Plant boxes outside the Ralph Lauren Flagship store
Numerous penthouse entry doors on Manhattan's Park Avenue
Balconies, custom, ornate for private residences on Sutton Place in New York City
Railings on New York City courthouse buildings
Work throughout NYC, Long Island/The Hamptons, Westchester, Connecticut
1992
A Larger Home
To meet growing demand, Pietrocola Iron Works moves into a new, larger space a few blocks away in the Northeast Bronx, still our headquarters location. The location features dedicated office space for administrative and drafting functions, large high-ceiling bays and cranes, and multiple welding and fabrication stations.
1996
1996
Beginnings of D.J.A.
Beginnings of D.J.A.
Joe sees growing interest among customers, designers, and other fabricators for wrought iron, ornamental metals, and gate and door hardware innovations that he had been leveraging in his work.
1999
1999
Adjustable Hinges for Gates & Doors
Adjustable Hinges for Gates & Doors
Joe and Gina introduce heavy duty adjustable gate and door hinges to the U.S. market.
2001
D.J.A. is Born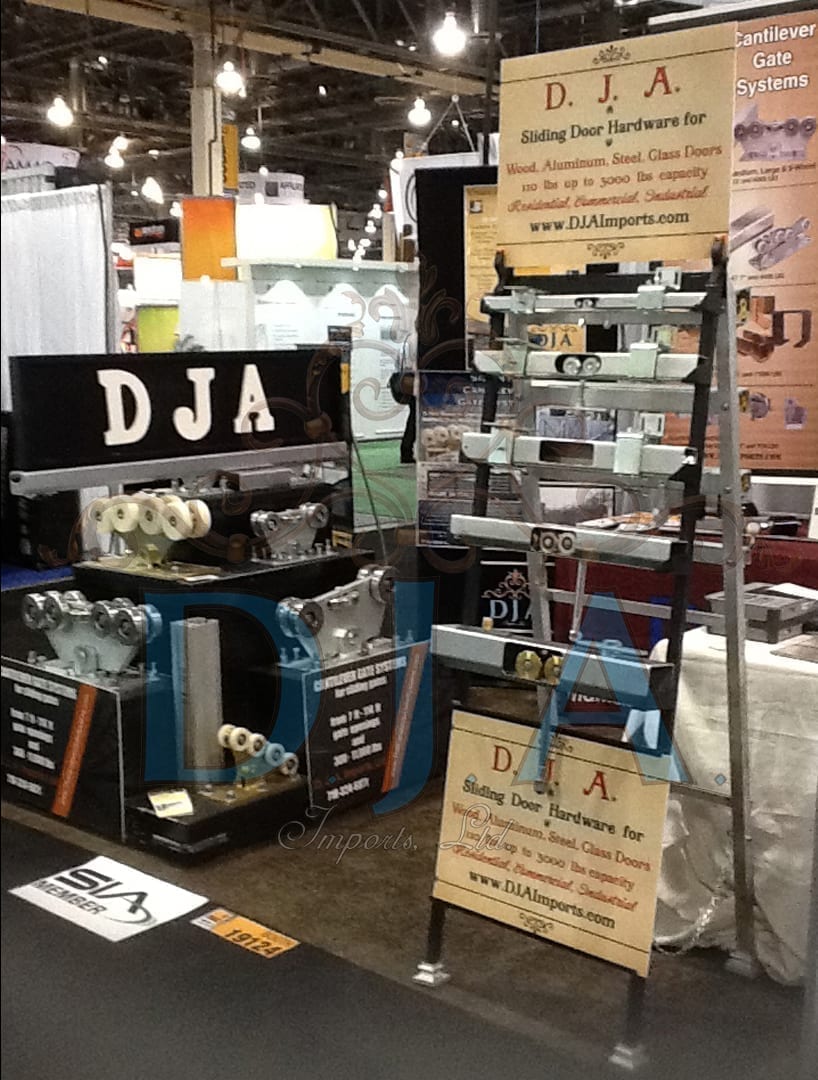 Joe and Gina begin importing Italian-made components, most of which are the first time they are available in the United States.
D.J.A. becomes an active member of various trade associations, including NOMMA and American Fence Association (AFA). They've hosted numerous NOMMA Northeast chapter meetings,
Hosted bi-annual educational open houses for their clients to learn about new machines, applications, techniques, and hardware.
Also in 2001, D.J.A. begins marketing the trackless cantilever gate system for sliding gates.