Founded in 2012, Gate Logic Security is an elite, full-service security services company specializing in gates, gate automation, and access control for residential, commercial, and high-security facilities. An expansive service portfolio offers expert security design, planning, implementation, installation, integration, and maintenance spanning all major brands. The company is based in the Washington, D.C. metropolitan area.
"In 2012 we found ourselves at a cross roads of sorts. With several contacts and much support from other industry professionals we decided to start the business. We quickly found ourselves excelling and growing. Our hopes and efforts have always been to raise the bar in quality and customer service," says Gate Logic's president, Shanna Gray.
Gate Logic Security was founded with the purpose of designing, engineering, building, installing, servicing and managing automated and electronic perimeter security solutions. In addition to serving a elite residential clients, gated communities, and commercial sites, Gate Logic also has a unique skill set that has them working to secure government and other high-security facilities.
A long-time DJA client, Gate Logic recently had a unique project that presented new challenges the company worked hard to solve.
"We were approached by a contractor that needed specific gates for a high-security site overseas. The primary challenge, as it often is, was how can we design a high security gate to fit a given space," commented Gray.
What made this project unique was the nature of the site it was being designed and fabricated to secure. "We had never had to research and perform wind load calculations for a site overseas. That made it fun and different," added Gray.
The primary design challenge was that the gate needed to fit from floor to ceiling and enclose the opening entirely, while still being able to fit into a small space when in the open position. "To try and meet all of these challenges, we turned to DJA for a solution," said Gray.
Combining the design requirements with the need for a strong, security-rated gate solution, Gate Logic worked closely with the experts at DJA Imports to come up with a solution. Ultimately, the decision was made to use the one of DJA's telescopic hardware kits.
Telescoping gates are the go-to solution for gates that need to fit in a small space while in the open position. DJA's telescopic hardware kits come in both 2 and 3-leaf configurations, and in 4 and 2 different sizes (respectively). This variety allows fabricators to build gates that fit just about any opening, and was the perfect solution for Gate Logic's project requirements.
Once the design was complete and the hardware had been chosen, it was time to start fabricating.
The project stakeholders required Gate Logic to go through a rigorous engineering process which required the customer to see the project working prior to the gate being accepted to ship. This meant a full, working installation on-site at Gate Logic's facility before the gate could be packaged to be sent overseas.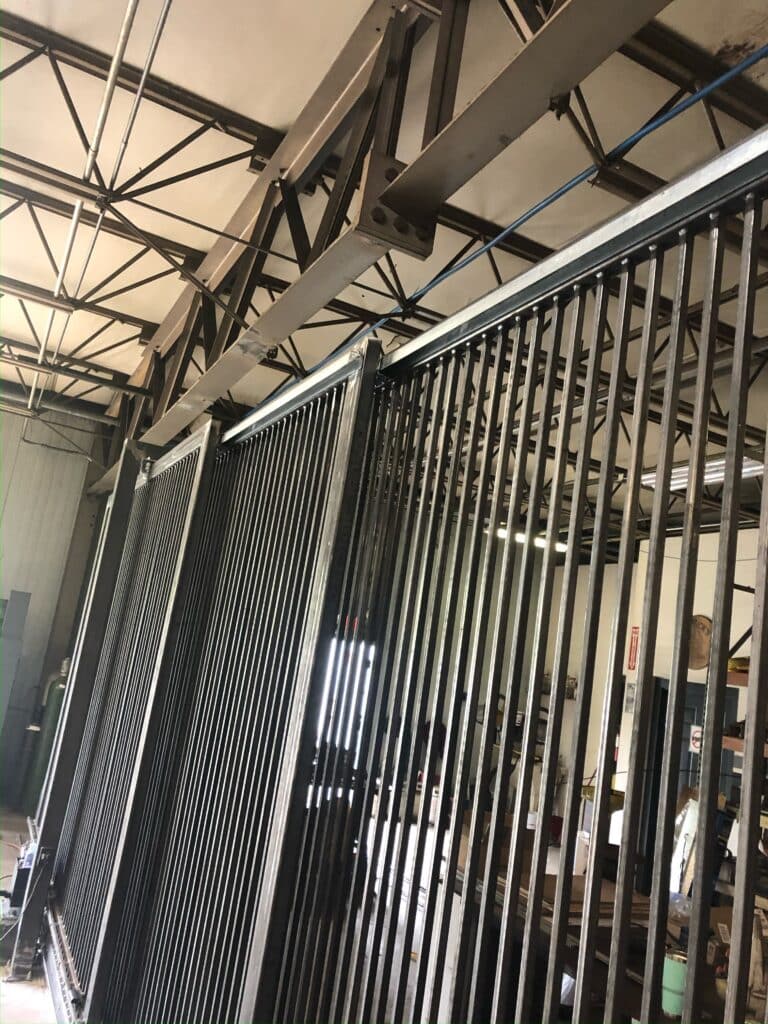 While demanding, these requirements proved to be nothing compared to the primary issue the team had to face; the COVID-19 pandemic.
All businesses had challenges to deal with throughout the COVID-19 pandemic, but this project presented a unique challenge for Gate Logic to manage.
As Gray put it, "By the time the gate was through the engineering process and accepted, then fabricated, COVID had entered the picture in a major way and the country it was being shipped to was completely locked down."
This meant Gate Logic staff would not be allowed to travel on-site to perform the installation themselves. "This required us to be meticulous packing and shipping the gate and automation components. We needed to be sure the boots on the ground were set up for success to install this unique gate," said Gray. "This also meant something entirely new to us, providing installation instructions," she added.
Ultimately, Gate Logic's hard work paid off. The installation went smoothly and the clients were ecstatic with their custom gate solution.
When asked if there was anything else she wanted to add, Gray excitedly pivoted to Gate Logic's new education initiative. "It is too often we hear about an intoxicated driver or hostile vehicle running into a parade route or crowd. The more we reached out to see what various municipalities and venues were doing to protect people, the more we realized how important it was to educate the public about the products that are currently available to prevent these incidents or at least mitigate this risk. We wanted to do our part to change that. It's a way for our team to give back."
If you want to learn more, Gate Logic Security can be found at 8124 Flannery Court, Manassas VA; visited on the web at www.gatelogicsecurity.com; emailed at sales@gatelogicsecurity.com; reached by phone at (703) 763-4283; and found on these social media platforms: LinkedIn, Facebook, Instagram.