An Innovative Sliding Gate System Designed for Small Spaces
Developed and manufactured by our partners at FAC srl, the novel Radius Gate Hardware System enables sliding gates to curve as they open, dramatically reducing the required side width for an open gate. Therefore the system can be installed where space is very limited or where a swing gate would be too intrusive.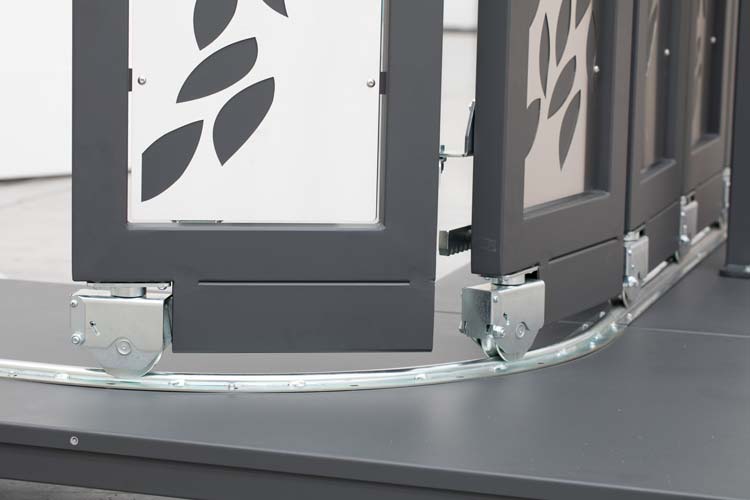 Like our other small space solution kits, the Radius is designed for limited space conditions, including difficult openings and property line restrictions. This system works by adding hinges and swivel wheels to a series of leaves that comprise the gate. The leaves can then slide along a track that includes a 90-degree curved section.
The system consists of a primary kit (available in two different sizes) that includes all the essential components for the construction of the gate structure, an accessory kit that contains the hardware components for the construction of each additional gate leaf following the first one, and straight track lengths placed on either side of the curved section.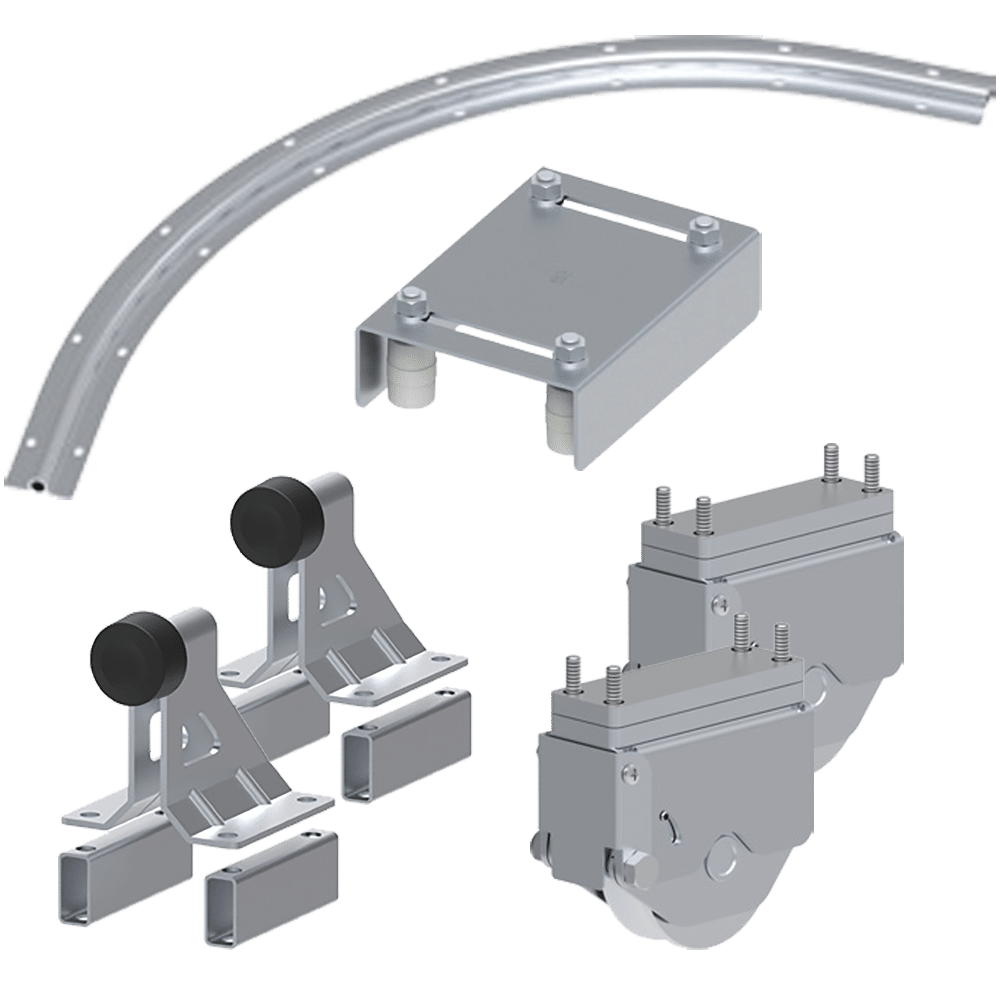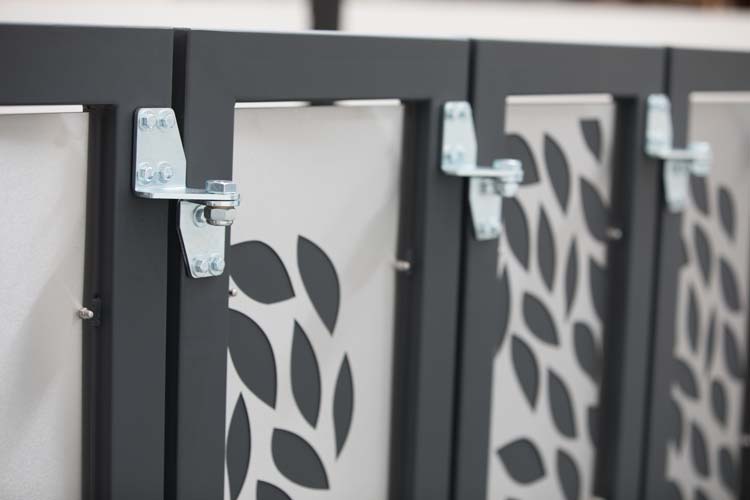 Features & Specifications
Easily add a sliding gate to a driveway or perimeter security where side space is limited
Total maximum gate weight (not including RADIUS hardware): 1100 lbs
Maximum individual leaf weight: 200 lbs
360 ° swivel wheels on each leaf allow sliding on the curved track. Wheels are equipped with a shock-absorbing system that allows them to remain in contact with the track, preventing or minimizing the gate from derailing even in the event of ground unevenness.
Maximum gate leaf length: 29-½" with Small configuration, 60" with Large
Supported gate thickness range: 1-½" to 3"
Compatible with rack and pinion gate operators (refer to datasheet for details)
Available in Two System Configurations
Each kit contains the respective curved track based on the radius size chosen, all of the necessary hardware for the main leaf, guides, and stoppers.
Small Radius Hardware Kit Includes:
1 19-3/4″ (0.5 m) radius curved ground track
2 wheels
1 upper guide
2 stoppers
Supported Gate Leaf Lengths: 16" to 29-1/2"
Large Radius Hardware Kit Includes:
1 39-3/8″ (1 m) radius curved ground track
2 wheels
1 upper guide
2 stoppers
Supported Gate Leaf Lengths: 30" to 60"
After you've determined the appropriate radius and leaf size (large or small above) for your project, the next step is to determine how many leaves you will need to complete your design. Each additional leaf requires it's own secondary leaf hardware kit. You will also need enough straight track to connect with the curved track provided in the main kit you selected.
A complete hardware system will include:
1 main kit for the first leaf (also includes stoppers and guides)
1 leaf hardware kit for each additional leaf
Straight track lengths based on gate length
Optional accessories to support a gate operator
Contact us today with your project details for a custom quote!
This Made in Italy design has been awarded the certification in accordance with UNI EN ISO 9001, recognizing the excellence of the product quality system and the internal efficiency of the various industrial processes.
Looking for More Small Space Gate Solutions?
If you are looking for small space solutions for gates, take a look at the family of SMALL SPACE SOLUTIONS: bi-fold, telescopic, cantilever and now the Radius.
Each kit differs in terms of aesthetics, functionality and opening to meet  your specific gate opening project, all while ensuring  security, ease of use and installation.