This beautiful decorative stair railing was designed, built, and installed by DJA Imports customer Frank & Sons Iron Work in a Connecticut home. This design uses two matching panels to provide a continuity of design on the flat landing section of the railing through the angled stair railing.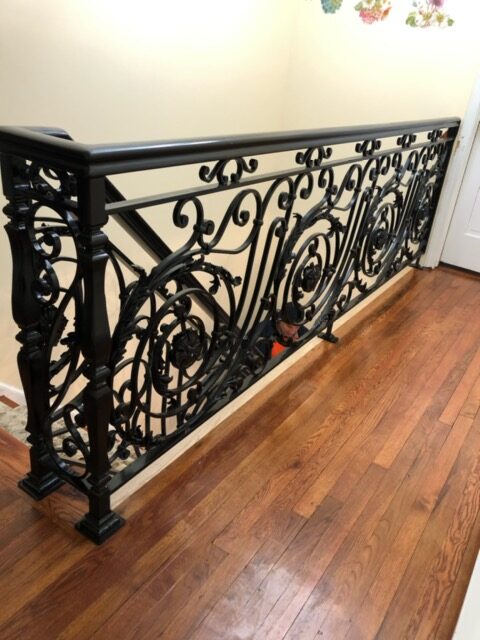 The flat section of the railing on the upstairs landing utilizes our DJA161 ornamental panel which is designed for installations on flat surfaces. Above the panel, the design is capped off with one of our C-scrolls (DJA137).
The angled section of the railing for the stairs uses the same C-scroll as the flat section, but uses panel DJA162 which is designed for angled installations on stairs.
The posts that anchor both ends of each railing section are handmade in Italy and are finished at the bottom with one of our square shoes. This particular shoe is available both in cast steel and hot dipped galvanized steel options.
Finally, the handrail uses our L18 style molding, a lightweight but sturdy steel option that offers a comfortable hand-hold and pairs nicely with the decorative panels and scrolls in a number of designs.
The products below are necessary to complete this particular design. Select sizes and options specific to your project.
Please note that some components in this design may not be currently listed on our website.