It's a crazy time for the housing market right now. Whether you're a new homeowner, putting your house on the market, or sitting tight and looking to do some home improvements, there are a ton of things that might warrant your attention (and wallet).
We all know the typical to-do items: new appliances, flooring, painting, or a patio remodel for the all-important outdoor space. But when was the last time you took a look at your railings and handrails? They're one of the few things around the home that provide safety while adding to the aesthetic value of your house. Railings prevent injuries but they can also help transform an entrance or room.
Read on for tips on what to look for in modernizing railings and handrails throughout your home.
What is a railing, anyway?
Before we jump into specifics, let's go over a few key terms. So what is a railing? What is a handrail? And what's the difference?
Well, a railing is actually a short-hand, commonly used term for a combined guard and handrail system. These are the two components that are defined in today's building codes:
A handrail is a "horizontal or sloping rail intended for grasping by the hand for guidance or support," according to the International Residential Code. So it's typically what we hold for support and balance as we navigate a staircase. And it can be mounted on the wall or independently in a railing "system". These need to be between 34 inches and 38 inches above the stairs and there are guidelines for shape and size.
A guard protects people from falling from an elevated surface, and are typically required for any "open-sided walking surfaces, including stairs, ramps and landings, that are located more than 30 inches measured vertically to the floor…," thanks again to the International Residential Code. In addition to that, more recent codes and jurisdictions around the U.S. and the world have established requirements for the maximum spacing allowed in a guard to protect babies and children from slipping through or getting a body part stuck.
We often use the term "railing" to identify what most folks are looking for, but for home inspectors, building departments and the like, we really mean handrails and guards.
A Homeowner Safety Checklist
While a professional home inspector can provide a thorough evaluation of your house that would include all interior and exterior railings, we've prepared a handy DIY checklist that we often share with our family, friends, and customers that you can use to conduct a rough health check of these components. If your home has (or regularly hosts) older adults, people with disabilities, or young children, these safety items are even more important to keep an eye on.
Note that this checklist was developed for single-family homes. New construction, multi-family homes and commercial properties may have more stringent requirements.
Interior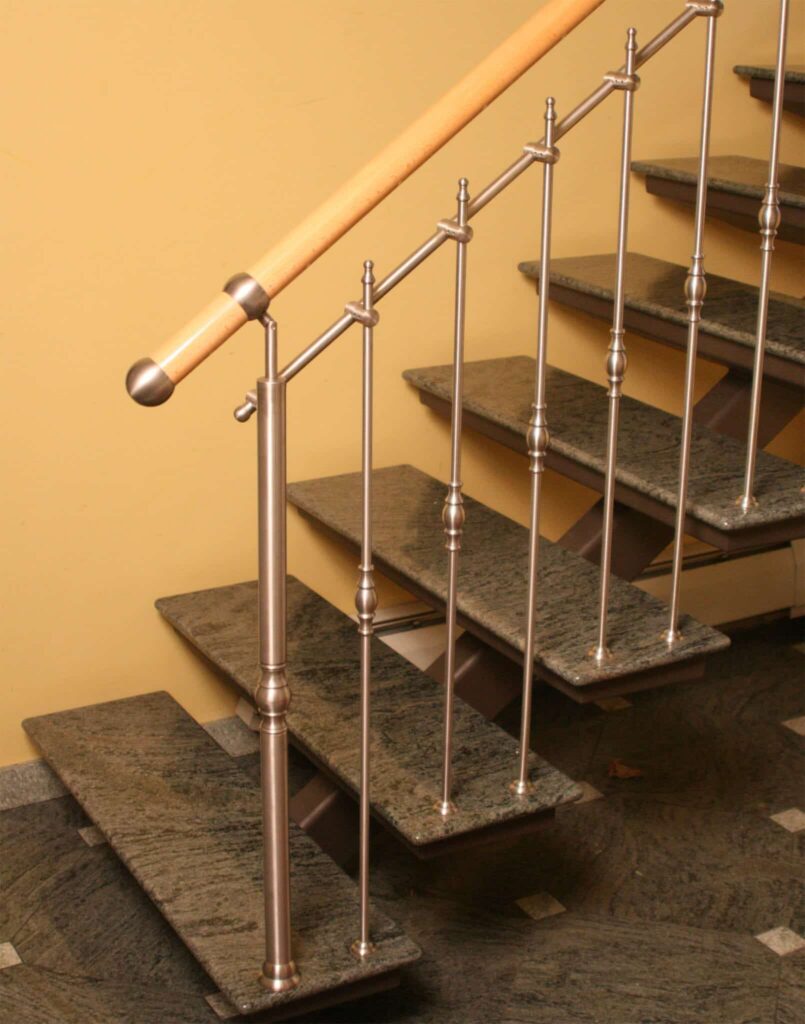 Handrails (including wall-mounted)
Check all handrails for secure mounting. Does it wobble or bend as you put some weight on it? Carefully run your hand around the surface to identify any sharp edges, splinters or eroding finishes.
Are they between 34 inches and 38 inches in height?
Are they easy to grasp?
Check all staircases and steps, even a single step transition. If it doesn't currently have a handrail, does it need one? Again, consider who is living in your home.
Guards
Check the integrity of all guards in your home. Again, these are to prevent falling from an elevated surface, including staircases, balconies and landings. Guards are typically wood, metal or glass. Check for wobbly mounting, cracks, and loose or missing components. On common wood staircases, guards are often made from vertical balusters or spindles. These can be wood or metal (wrought iron, aluminum, stainless steel), and a variety of finishes.
Check guard spacing. Particularly if you have young children in the home, or have an older home, check for any gaps where a 4" sphere could pass through and be sure to account for deflection. Cable rail is a popular modern rail guarding that isn't as rigid as wood or metal and will deflect beyond it's installed spacing.
Exterior
In addition to checking the same as you did for interior, here are a few more things to consider for exterior spaces: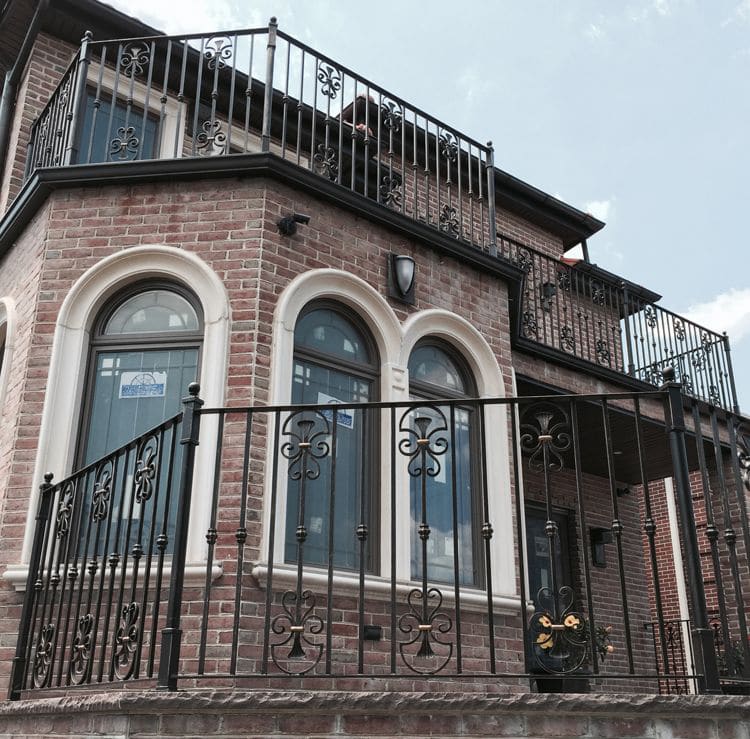 Check for rust or corrosion on metal stair railings and level railings
Check welds and/or mechanical fasteners on all railings
Check for faded or damaged finishes
Inspect wall or ground mountings for damage or compromising cracks. This is particularly important for wood and brick surfaces.
Walk the property and identify any outdoor steps, garden steps or slopes that could benefit from a handrail.
If a railing is present on one side, review whether adding a railing to the opposite side would make sense. Again, consider who is in your house and how the stairs are used.
While not directly related to the railing, review your steps and slopes at night and in poor weather for potential lighting or non-slip improvements.
What about the style?
Design won't save the world. But it damn sure makes it look good.

Mary Crawford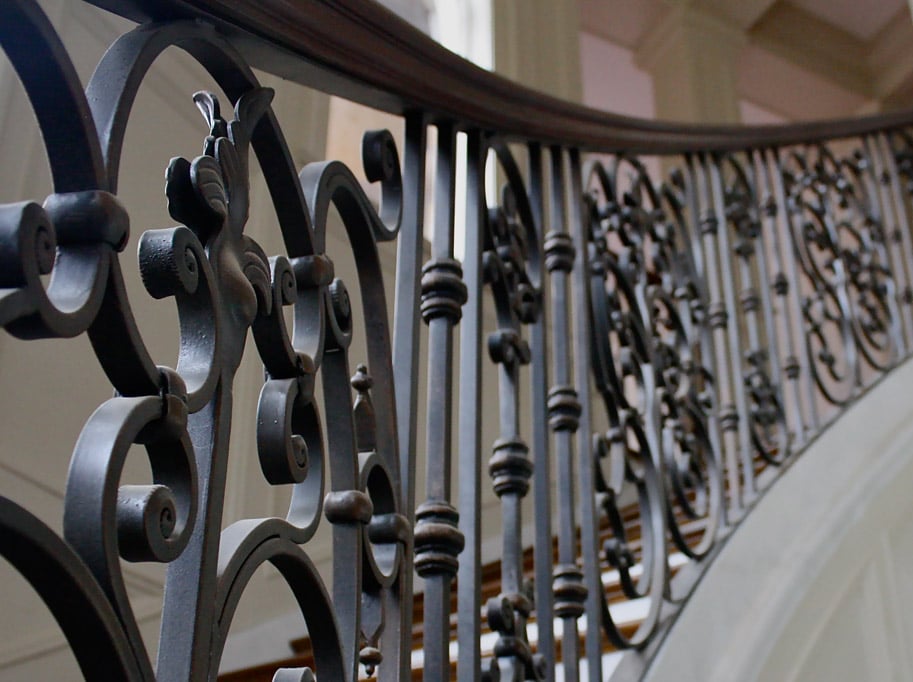 Phew, so you got through taking stock of what you have and what condition they're in. Now comes the real question: do you love it? As we mentioned earlier, a railing can go beyond a safety function and really elevate a space. Railings should match your style. Do you want ornate and highly decorative stair railings or are you more into mid-century modern railings? Right now industrial and minimalist railings are highly trendy.
Remember that it's another potential area where you can add unique, one-of-a-kind craftsmanship to your home, like millwork or stained glass.
Let's look at a couple key considerations when it comes to style decisions on a railing or handrail.
Material
As with most things in architecture and design, materials and textures play an important role in the overall look and feel of a space. Railing components aren't any different. You'll find off-the-shelf and custom railing solutions that highlight or even combine glass, aluminum, stainless steel, brass, regular steel (which is also often called wrought iron), vinyl, composite, and of course wood.
Finishes have certainly come a long way though (as we'll discuss next), and many of these materials can be made to look like something else. The important things to consider here are budget, shapes and style, and how much you're likely to commit to any maintenance requirements. Be honest here, and remember that railings serve that safety function we discussed earlier.
Finally, when choosing shapes and styles remember that some materials can be very difficult or expensive to get in a certain size or configuration.
Finish
There are a ton of great finish options out there. When it comes to metal railings and handrails, both for exterior and interior, most folks tend to go with a tried and true black color. But while in the past this meant paint, today a popular option is powder coat. We offer a powder coat finish with our custom railings and for good reason. It provides superior protection from scratches and the weather, has amazingly long warranty periods, and it offers some great texture and glossiness variation options. It's even possible to make metal look like a painted wood surface with the right finish!
Not all powder coats are created equal, though, and not all have the UV resistance to prevent fading for exterior use. Some downsides to powder coat include potential chipping if something bangs against it; and unlike paint, if you want to change your finish or color down the road you'll need to send the piece out to a professional for sandblasting and the powder coat spraying and curing process.
To highlight more of the raw material, some other options for corrosion-resistant metals such aluminum and stainless steel include a brushed or high polish finish, plating, and color anodization like you might find on consumer electronics.
Style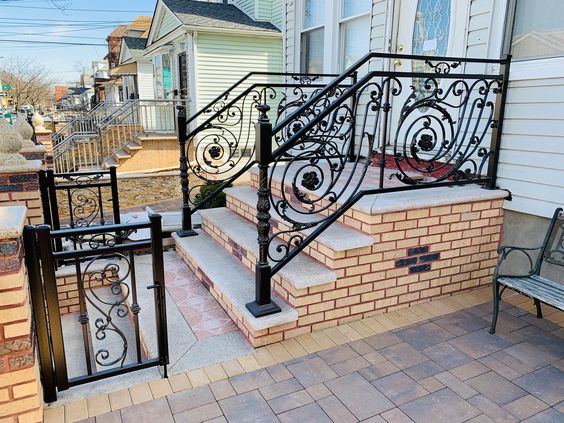 The world is your oyster here! It's important to figure out what look you're going for first, and then start shopping around. Pinterest is a great option for getting inspiration, but you can also pay close attention to independent fabricators in your area and what materials and styles they are comfortable with. You may need to budget extra time and resources to shop around. For example, some shops are not setup to work with aluminum. Others might shy away from ornate scrollwork due to the level of craftsmanship and time required.
Besides custom and made-to-order, there are many kit options and installers that specialize in them. While popular and cost-effective, consider the design, maintenance, and lifetime cost tradeoffs that often come with these options. If sustainability and country of origin are important to you, include them in your research as well.