Same great benefits as the original, now supporting up to 52′ openings
The BiFold Gate Hardware solution has become a game-changer for adding a trackless swing gate to areas with limited space, and it's the only complete kit on the market with all the hardware and hinges you need. However, we heard that many client projects needed to support larger openings or heavier gates than the original could handle. With the new heavy duty version from FAC, you can now add a folding gate mechanism to heavier gates and cover larger openings!

The original system can handle maximum 16-foot openings with a single kit, but the weight capacity is limited to 385 lb. at that opening. To handle a heavier gate, two original kits would be needed to split the opening with two two-leaf gates. However, a single heavy duty kit is now another option with a weight capacity of 1366 lb. at 16 feet (see comparison chart below).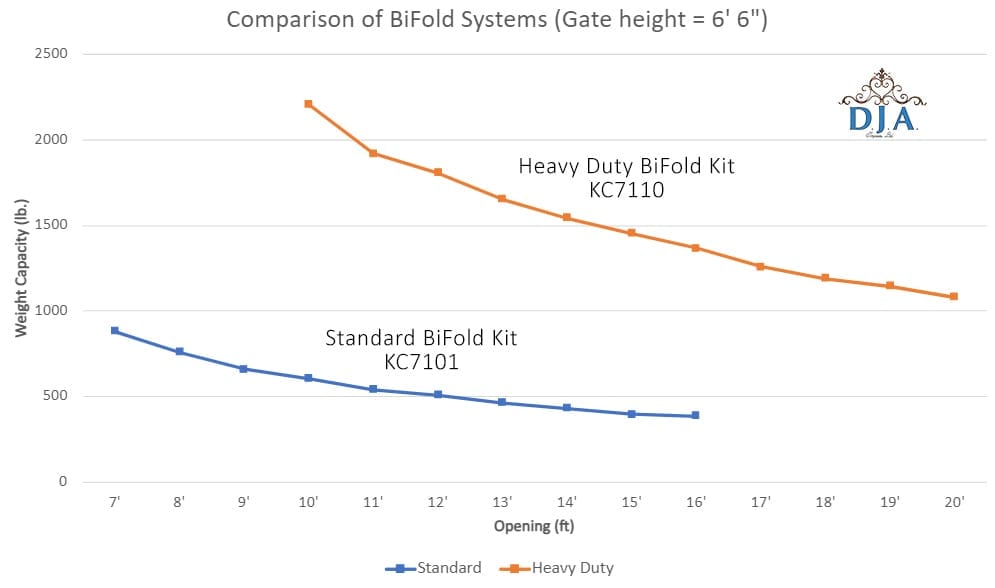 Overall, the Heavy Duty BiFold Gate Hardware Kit can cover openings up to 26 feet with a single kit, and 52 feet with two kits. The weight capacity is 826 lb. at this maximum, while the minimum supported opening of 10 feet has a weight capacity of 2204 lb. For more information on weight capacity, opening sizes, and gate height considerations, refer to the helpful technical table on the product page.
Heavy Duty BiFold Gate Hardware Kit Opening and Weight Capacities
Use this table to determine the maximum gate weight (in lbs.) based on the opening (columns) and minimum gate height (rows).
| Gate Height | L = 10' | 12' | 15' | 20' | 26' |
| --- | --- | --- | --- | --- | --- |
| 5' | 2204 | 1807 | | | |
| 6' 6" | 2204 | 1807 | 1455 | 1080 | |
| 8' 6" or higher | 2204 | 1807 | 1455 | 1080 | 826 |
Heavy Duty Kit Product Features
Complete hardware kit with all the components necessary to add bifold operation to a two-leaf gate
Reinforced joint mechanisms to support larger weight capacities
Galvanized components and aluminum leaf hinges ideal for industrial and commercial outdoor use
Suitable for perimeter gate and security applications
Folding mechanism reduces required footprint during opening and closing
Trackless for a clean, non-disruptive look
Compatible with most in-ground and swing gate automation solutions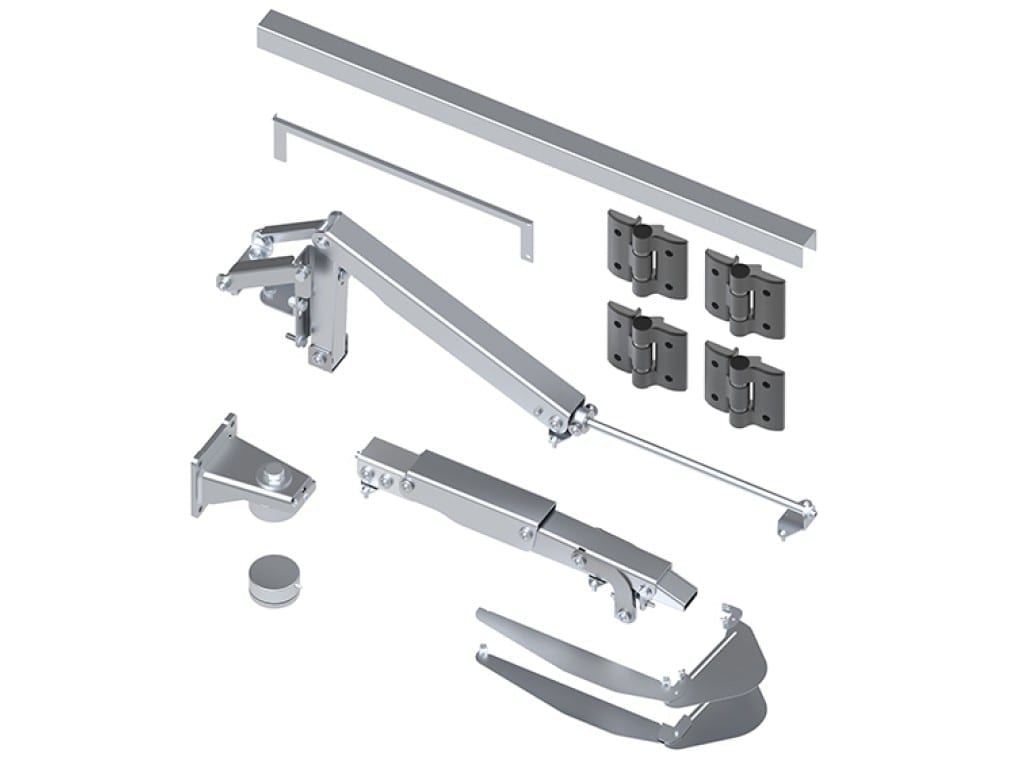 What's Included:
(1) Heavy duty reinforced column joint arm mechanism (VC7101.080)
(1) Heavy duty reinforced leaf joint arm mechanism (VC7102.080)
(4) Heavy duty leaf hinges (VL4500.140.V)
(2) Protective guards (VC7105)
(1) Top post weld-on hinge (VC4114.090)
(1) Bottom support weld-on hinge (VC4202.090)
(1) Zinc-plated channel, 2″ x 2″ x 1/8″ x 118″ long, cut at 92″ for UPS shipping (VA5402.003.L)
(1) Drilling template