Choosing the right driveway gate style for your home or office can be difficult because of the number of factors that need to be considered.
First, there's the aesthetic appeal you're striving for. The style of gate you select goes a long way to determining the final look of your gate project. Are you ok with visible tracks in your driveway? If not and you choose something like a cantilevered gate, will the materials you'd like to use be too heavy for the gate to function properly?
To make your life easier, we're going to cover the many hardware gate systems and provide some pros and cons for each type to help you narrow down the choice that's right for your gate project.
Types of Driveway Gates
Cantilevered Gates

Cantilevered gate systems are ideal for pedestrian, residential, commercial, industrial, and crash-rated projects. They're a great solution for large openings, and are applicable for wood, steel, chain link, PVC, aluminum, stainless steel, or even cement.
Cantilevered systems offer superb flexibility, large gate openings, higher weight options and multiple styles.
These gate systems are also extremely flexible. At DJA we carry 15 different sizes in 3 different finishes, and our large model will accommodate openings over 60 feet!
Pros
No track on the driveway (nothing to clog or jam up!)
Automation options
Large gate opening options
Minimal Visible Hardware
Any Gate Material
Cons
Not ideal for small spaces
BiFold Gates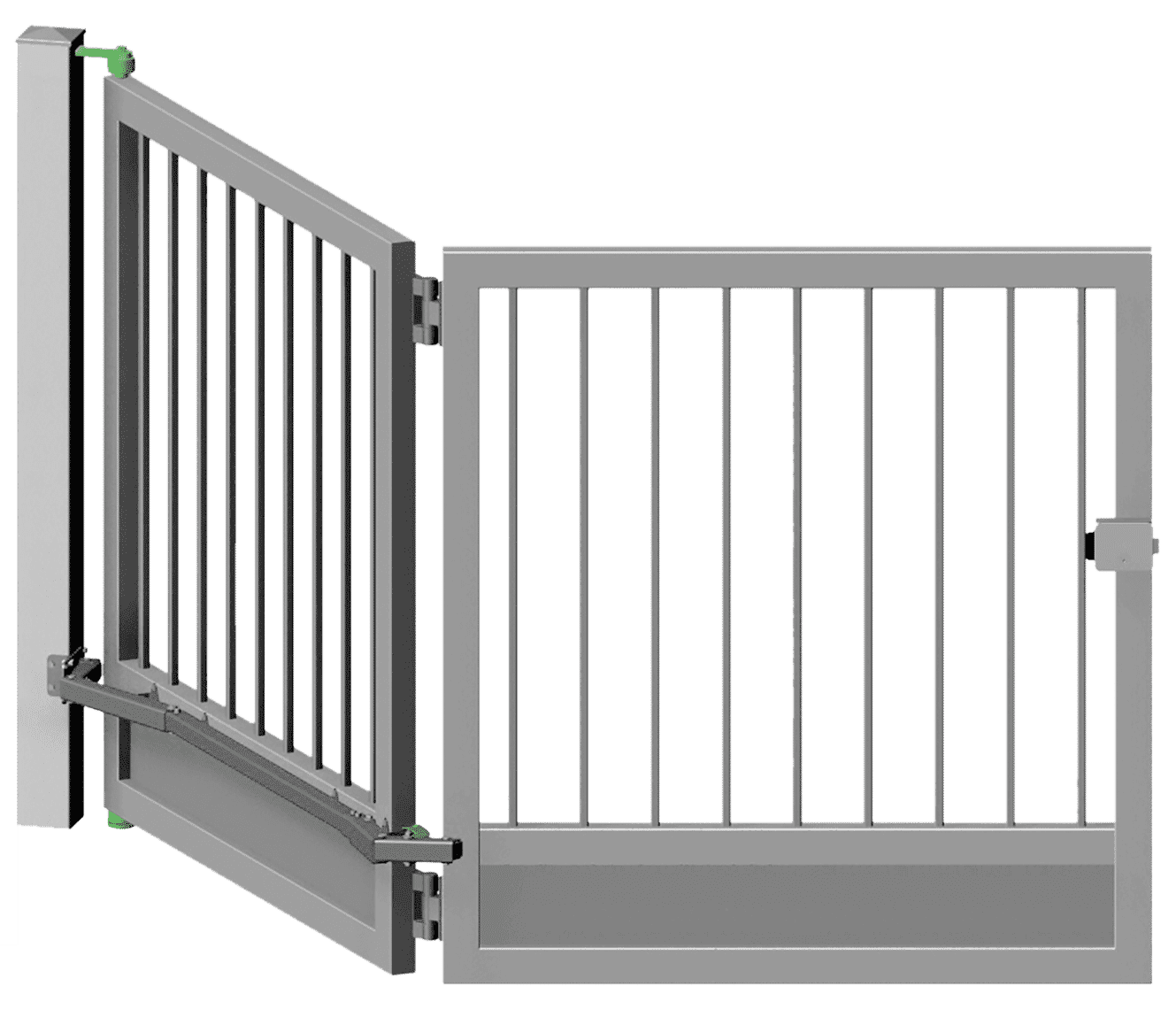 BiFold gate hardware systems are great for many applications, but are most useful where space is at a premium.
Because of the compact nature of the opening system, BiFold gates are great for anyone with limited space that needs a functional gate option. Bifold gates can be configured as single or double gates, and only require clearance behind the hinge equal to half the length of the gate.
Check out this video that illustrates how a double bifold gate works:
These gate systems are relatively easy to install and the right hardware kit makes all the difference in the world. If you're looking for more information about how to install a bifold gate or want to know how difficult it is to install a bifold gate, here is a good video that illustrates the process of installing one of DJA's Bi-Folding Gate Hardware Kits:
Bifold gates are not ideal for installations with steep, upward sloping driveways where the gate doesn't have enough level clearance to open properly.
Pros
Ideal for small spaces
No track on the driveway (nothing to clog or jam up!)
Can be automated
Cons
Doesn't work well with sloped driveways
Telescoping Gates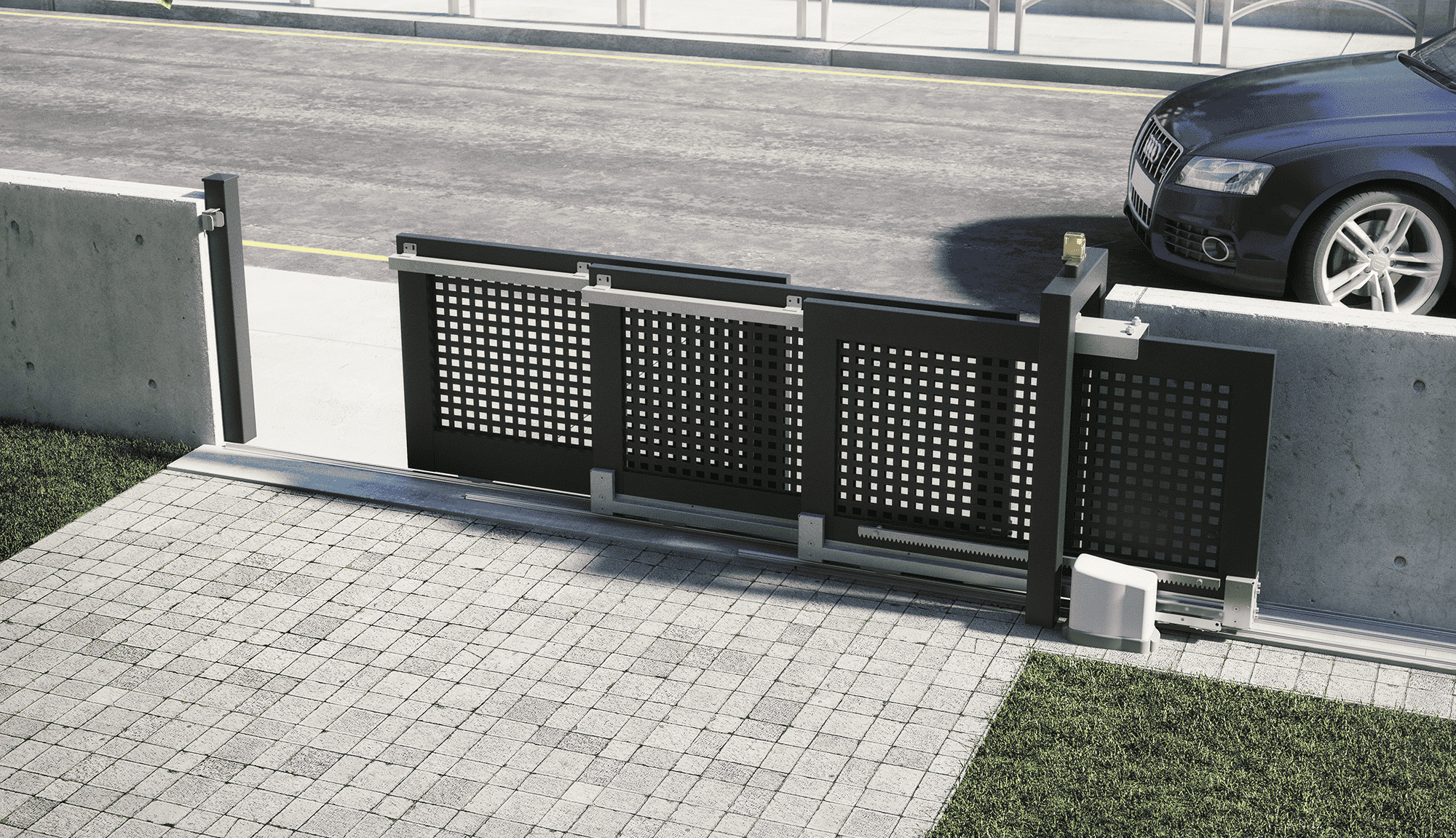 Telescopic gate hardware is another great solution for applications in small spaces. Where cantilevered gates allow for the fabrication of a single gate, telescopic gate solutions are built in multiple segments connected by a cable-guide system to allow seamless opening and closing of the gate.
At DJA, we carry two primary hardware options for telescopic gate hardware, a 2-leaf configuration and a 3-leaf configuration. Each of those options come in multiple sizes so you should be able to find one that meets your needs if you decide to go this route.
The main issue with a telescopic gate is that it requires a track on the driveway. Aside from the added complications with installation, snow and ice can cause issues with opening, so you'll need to add a heating element to the tracks to ensure the gate doesn't get stuck when installing these in northern climates.
Tracks can also become clogged with dirt, pebbles, leaves, and other debris which can make the gate difficult to open or close, or cause it to become stuck. This may or may not be an issue depending on the make of the track hardware you choose. DJA's telescopic gate tracks are specifically designed to avoid these issues, but there are budget options out there that will definitely suffer from this problem.
If you're wondering how hard it is to install a telescopic gate, this video shows the complete process of how to install one of DJA's Telescopic Gate Hardware Kits:
Pros
Automated options
Excels in small spaces
Excellent choice for warm climates
Cons
Track on driveway
Not ideal for cold climates
Hinged Gates / Swing Gates
A traditional hinged swing gate is a tried-and-true standard that has been around for generations, and for good reason. Modern gate hinges allow you to accommodate just about any opening you may need to. However, the versatility of gate hinges can also make them somewhat complicated to navigate when it comes to designing your solution.
For example, DJA carries adjustable hinges, clamp-on hinges, weld-on hinges, and pin hinges. Knowing which option to choose depends on the gate you're building or hanging. For example, the weld-on hinges DJA carries max-out at a 600-pound weight capacity.
Our adjustable barrel hinge, on the other hand, has a weight capacity that exceeds 3400 pounds! Not only does the weight capacity provide for a tremendous amount of flexibility in gate or door design, but the adjustable nature of the hinge makes installation and maintenance a breeze.
Because of the number of options and hinges available, we've put together a comprehensive guide to help you navigate your hinge options to help you find the perfect hinge for your gate or door project. As always, if you have questions you can't find the answers to or you would just like someone to help you narrow down your options, please feel free to reach out and someone from our team would be happy to help point you in the right direction!
Also read: Why Your Gates Need Adjustable Hinges
Pros
Widely available
No track on driveway (nothing to clog or jam up!)
Options to fit just about any gate
Cons
Requires enough space for the gate to swing open
So Which Driveway Gate is Right for You?
If you took the time to read through all of the options outlined here, you have probably realized that space is the primary issue you'll need to navigate.
Driveway Gates for Small Spaces
If you need a driveway gate for a small space, you should be looking at bifold or telescoping gate options. These solutions work very well for most small spaces, but there are a few things to consider:
Bi-fold gates don't work well on steeply sloping driveways where there is not enough room for the gate to open properly without hitting the driveway
Telescopic hardware requires a track, so issues can arise with snow and ice in colder climates
Driveway Gates for Larger Spaces
A cantilevered gate system is a great choice to cover large spans with a single gate. These gates excel in larger spaces and offer a tremendous amount of flexibility in design.
A hinged gate can work well in a large space but definitely requires careful planning to select the appropriate hardware to ensure the gate will work properly.