Outdoors stair railing, deck railing, and interior stair railings are some of the few things around the home that serve two important functions: safety and curb appeal. Railings are required to prevent injuries, but they can also help transform an entrance, outdoor space, or room.
But many homeowners encounter sticker shock as they shop for custom metal railings. Pricing also can vary widely from vendor to vendor, even if the proposed railing design looks the same. So what goes into your project's pricing and what should you consider in your purchase decision? Read on as we demystify the factors that go into custom metalwork pricing.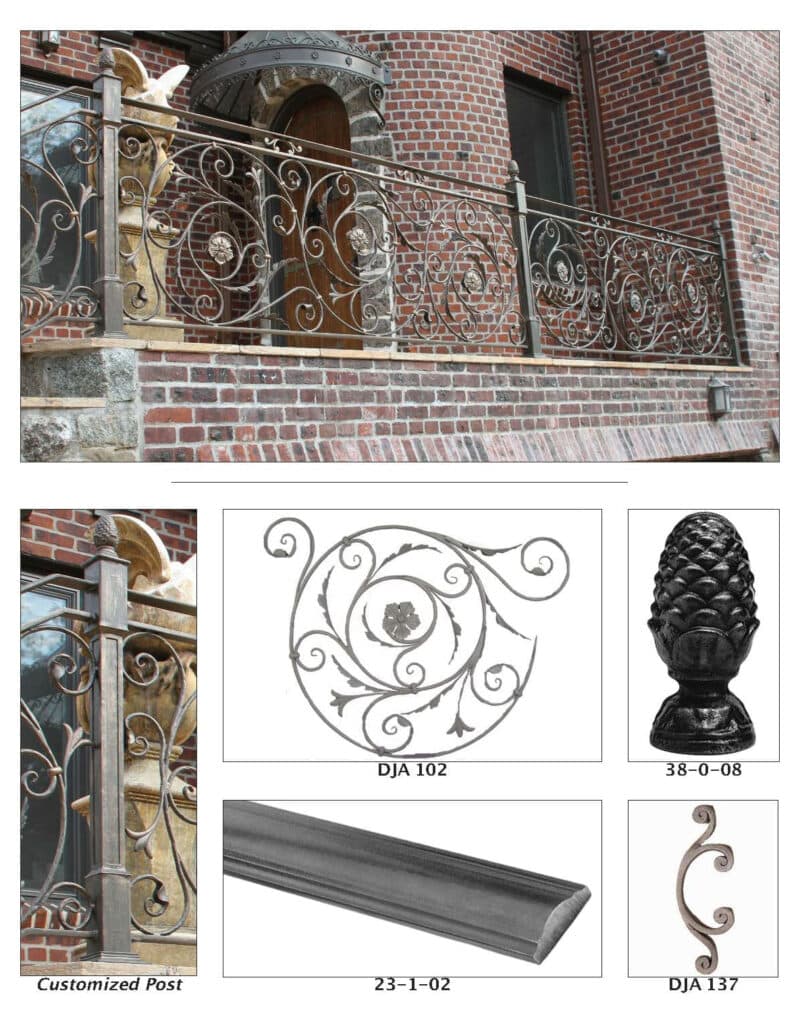 Level of Railing Customization and Design
First, let's consider made-to-order stair railing versus railing kits. Most metal stair railings and handrails are made-to-order. For ones that aren't, they are typically aluminum kits that are mechanically fastened and require you to cut them to size onsite.
Since these can be mass produced, the price points for the material will be lower. This works for a lot of folks and can produce some stellar looking railings. However, keep in mind a few downsides and hidden costs with these kits:
Additional onsite and installation labor costs
Potential for errors and rework costs during the onsite cutting and assembly process
Limited design options
Mechanical fasteners loosen over time, creating additional maintenance and repair costs over time (increased total cost of ownership)
As with most things that are custom and made-to-order, customized metal stair railings are a premium product because they cannot be mass produced. Each and every one is truly unique. The good news is that there are a ton of options out there to let you decide how premium and unique you want to go.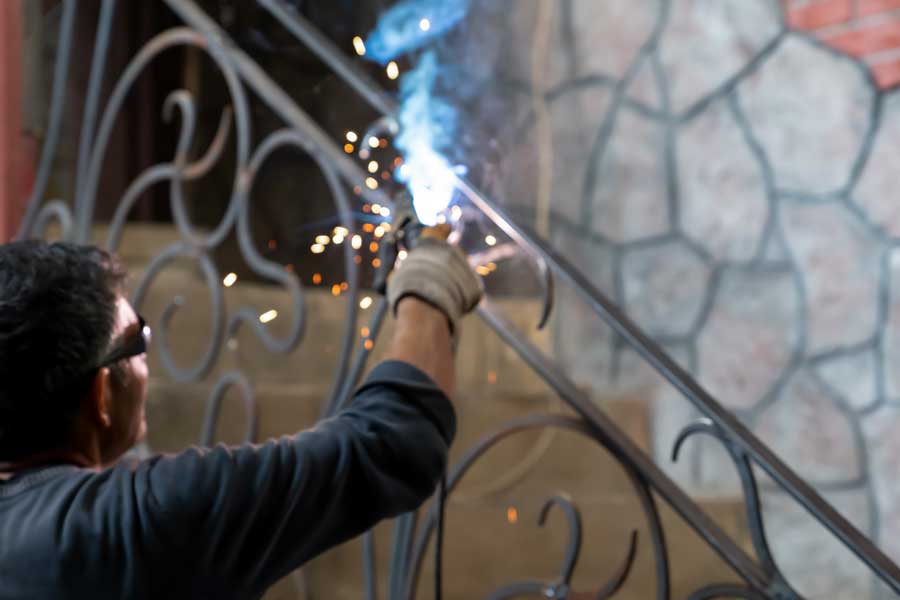 What material should I choose for my railing?
Beyond the design of the desired stair railing, the type of raw material metal plays a role in the upfront price and future costs based on recommended maintenance for the material you choose. Material costs generally will only make up 5-15% of the total price you'll pay for your custom railing project. However, your choice in material will also affect the fabrication costs due to the skill, equipment, or consumables required to work with a particular material.
The most common metals for railings and handrails are steel and aluminum. In most geographic areas, steel is by far the most popular material with the most vendors and style options. While it's much heavier than aluminum, it is typically 30% less expensive.
*Note: Both steel and aluminum prices have been very volatile the past few years. Their prices have increased with increased demand, limited domestic supply and ongoing tariffs on imports so it's not uncommon to see railing prices and quotes changing by the week or even day!
Let's take a look at a few differentiators that affect railing project pricing:
Steel Railings
While you might see many refer to "wrought iron" or just "iron," the actual material used today is going to be hot rolled mild steel; which is stronger, lighter, lasts longer and is easier to work with than traditional iron.
Cast iron components are popular for some designs and they are cheaper. However, they have some disadvantages (see below). When dealing with very ornate or hand forged designs, vendors may purchase factory-made components such as scrolls and panels instead of buying the raw stock material and making it themselves. These factories are laser-focused on component production so the quality and throughput are much higher than a smaller fabrication shop. This may increase the project's material cost but will dramatically save on fabrication labor time and expenses.
Aluminum Railings
Aluminum railings are growing in popularity because they are lightweight (easier to ship), and corrosion-resistant, so they won't rust like steel railings. Raw material costs tend to be 30% or more, than comparable steel material, and fabrication costs are typically higher as well. However, the aluminum components will weigh about three times less, offsetting some costs elsewhere such as in shipping and delivery. In general, you'll pay more up front but enjoy virtually no maintenance costs for the life of your railing.
Assuming you love the railing design and material choice, there are still areas where a vendor could "cut corners" that may save you money up front but cost you down the road.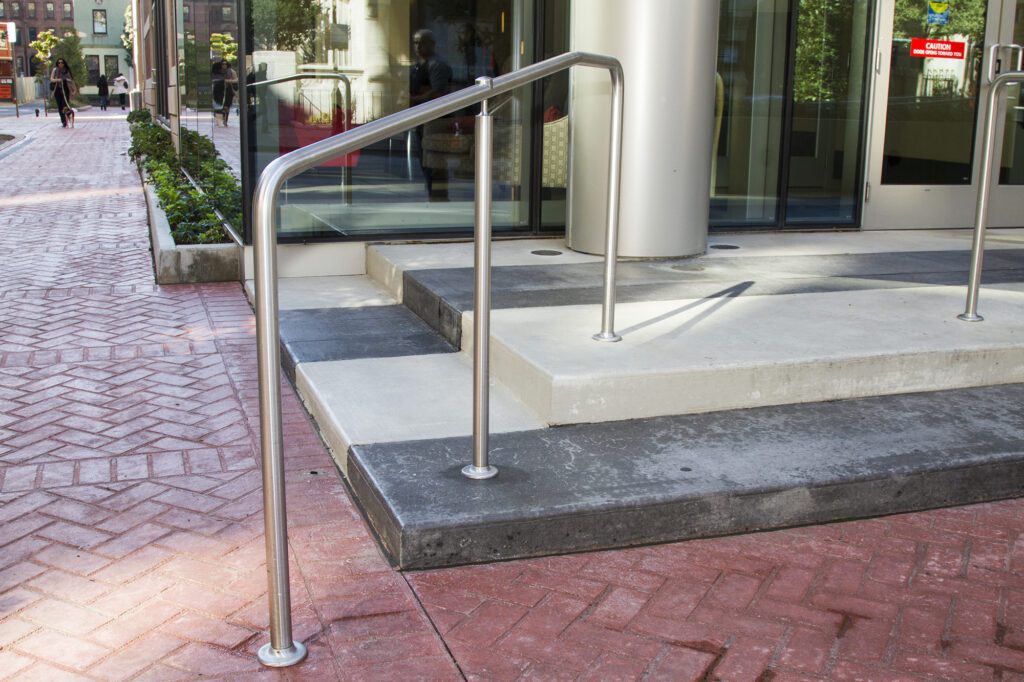 Here are a few material-related questions to ask when evaluating different prices and quotes:
Is the material tube or solid?
If it's tube, how thick is the wall and does it meet building code? Tube is far more common these days but you should know that thinner walled material will be weaker and, if it's steel, rust more quickly if the railing is not hot-dip galvanized. For steel, 11 gauge is generally a good wall thickness, and for aluminum, 1/8" is recommended for structural support components such as the railing newel posts.
For solid material, sleeker and thinner designs are possible but you don't want to cut corners on the structural integrity of your railing. Ask for dimensions and impact on strength and durability.
Will cast iron be used?
Cast iron is popular because it looks similar to higher-quality steel designs but it is much cheaper. However, it's heavier and more brittle. It also cannot be hot-dip galvanized, which could be important for your application. So if you receive a cheaper quote, make sure you're comparing apples to apples.
What is the material origin and source?
If eco-friendly products and sustainability are important to you, ask where the material for your railing will be purchased. You can even ask what vendors, suppliers or distributors will be used and specify who you want to use.
We touched on steel and aluminum, but note that stainless steel, brass, bronze, vinyl, wood, glass, and their various combinations are all valid options for custom railing designs. With ample time and budget, anything is possible.
Fabrication Labor
Fabrication skilled labor costs can make up 25-45% of your railing price, depending on your area's cost of living and labor pool. Even with commonly used outdoor deck railing kits, there is still an incurred cost on the onsite time to cut and assemble the railing for your space. As with most industries today, there is a skilled labor shortage and this is pushing labor costs higher.
If your stair railing price looks too good to be true, or is much higher than others you've been seeing, consider asking these questions:
Do you have any certifications?
What weld finish quality level will you use? If you're paying for a custom made-to-order product, ensure the weld quality will be professional and smooth. See this guide for examples, published by the National Ornamental and Miscellaneous Metals Association (NOMMA).
How long have you or your team been fabricating?
Can you provide references of recent work? Do not take photos at face value since it is very easy to claim someone else's work.
Where does fabrication occur, or where is your shop located? While many take worker safety, training, and conditions seriously, unfortunately some do not. Ask yourself if you're ok with your custom railing made in such an environment.
Finishing Costs and Labor
Finishing your railing – paint, powder coat, corrosion resistance – can add up to 10-35% or more of the total price tag. This is often where you'll see a difference between high-quality offerings and corner-cutting offerings. It's also where you'll decide whether to accept a lower upfront price and more maintenance, or spend extra for a longer-lasting investment.
Here are some questions to ask and think about when it comes to finishing costs:
Is this for my forever home? Just like other investments in kitchens and tile, if this a long-term investment then ask for a quality finish. For exterior steel railings, metalizing or hot-dip galvanizing can add decades of rust-free life.
Is finishing performed in-house or outsourced? In-house might be cheaper, but if you're being offered powder coating you'll want to ask about certifications to make sure you are getting a quality finish and application. For example, both steel and aluminum railings require sufficient preparation with sandblasting and outgassing before the powder can be applied. Otherwise it may not adhere properly and the paint will begin chipping and peeling in no time.
What kind of paint or powder coat will be used? Depending on your climate and whether you're working with interior railing or exterior railing, there are a ton of paint and powder coat options. Ask or specify what will be used. For example, paint might be a cost-effective option that will look great but ensure quality products and proper application are done. For outdoors, ask for UV resistant options to prevent premature color fading.
Business and Project Overhead
Like any business, overhead expenses are baked into a product's price. Every business and industry is different so it's difficult to estimate as a potential customer. However, be aware of potential red flags. If a seems too good to be true, you might want to ask a few more questions about the business to protect yourself and your property:
Is the business incorporated and in good standing with the state?
Are the business and its products insured?
For projects involving installation, does the business have the licenses and certifications required by your city and/or state?
Do they provide regular updates and a project manager?
What kind of customer support do they offer?
Shipping & Installation
Getting your stair railing to your home and installed can make up an additional 10-35% of the total price. The larger your railing is, or the more onsite assembly and rework required, the more you are likely to pay in this category. In general, fuel prices and labor expenses (for drivers and/or onsite installers) continue to increase and there isn't a ton of wiggle room here.
Here are some shipping and installation questions to ask and consider:
Is the mounting surface delicate, for example tile or bluestone? If you're considering a DIY approach, do you have experience with that?
What mounting options do I have?
How will you ensure a good fit that won't require onsite rework?
How is the railing packed and protected in transit?
Hopefully this has helped get you going on your journey towards a beautiful new stair railing in your home! If you have additional questions or comments please drop us a line and we'll be happy to assist.