Metal fabrication components like steel bars, tubes, and flats are some of the most versatile materials for stand-out outdoor projects.
With the right tools and a little bit of creativity and skill, you can use these supplies to create a variety of beautiful and unique ornamental metal products to add a unique touch to a home or garden.
Add in pre-fabricated items like decorative panels and scrolls, metal décor, pickets and posts, or leaves and you can add a fantastic touch to both indoor and outdoor spaces.
Here are five spring project ideas that can help you elevate a living room, yard, or garden this spring!
Metal Garden Trellis
A garden trellis made of ornamental metal products can add a beautiful touch to a backyard or garden. To create a metal garden trellis, start with a simple design. A quick search on Google for "metal garden trellis" should provide enough design inspiration to get you started.
Once your design is set, you'll need to make sure the steel bars or tubes that you choose are strong enough to support the weight of the plants you'll be growing. The trick here is to be sure to account for the weight of the plants when full-grown!
You can also use decorative metal elements like scrolls or twisted bars to add some flair to your design, make it unique, and/or match present a cohesive look with other elements in the garden.
Ornamental metal planter boxes can add a touch of elegance to a patio or garden. You can get really creative with your boxes, or keep them super simple!
The best part of building your own is the ability to customize the size and shape of the boxes to fit either your or your customer's specific needs, and use the decorative elements you like to add some personality or to match existing details within the space.
Once you've selected your design and the materials for your frame, the next most important step is to pick a liner or container that works best. One option is to design your planter as a frame to fit a standard size plastic planter box you can find at the big box store or garden center.
A step up would be to mix wood and metal elements with something like a cedar planter box. Cedar is highly weather-resistant and will do well outside in the elements for years.
One of our favorite approaches, which also happens to be a more natural, eco-friendly solution is to use coconut fiber liners. One of the added benefits of this approach is the ability to not have to design to a specific pre-fabricated planter box size.
If making your own seems like a bit more than you want to tackle, or isn't in the budget, you can always start with a pre-fabricated metal planter.
Metal wall art can add a unique touch to elevate any home's décor. While many metalworkers are pretty talented artists in their own right, if you don't fancy yourself an artist you can still create beautiful works of art with a little skill and access to the right materials!
To create a simple piece of metal wall art, start by selecting the decorative metal elements you want to use. Scrolls, medallions, and other ornamental pieces are great choices.
Using pre-fabricated elements like this makes it more like putting a puzzle together and can be a lot less intimidating than trying to create a completely unique piece from the ground up.
Metal wall art can be created in a variety of shapes and sizes, so get creative with your design. You can create a single large piece of wall art or a series of smaller pieces that can be arranged together for a cohesive look.
Metal Gate or Fence
Lets face it, metal fences and gates add a touch of class you won't get with other materials. On top of the added benefits of security, strength, and longevity, metal gates and fences elevate the look and feel of everything around them.
Beyond the tools and basic materials to make your frame, like steel bars and tubes, depending on the project there are a number of other factors to consider. Fences need to be built to code and consider everything from how well they complement the architecture of a home to what types of wildlife they allow in (or out if the homeowner has pets!).
While a project like a gate requires not only the ability and knowledge to build the gate, but the ability to choose the correct gate hardware and perform the installation in a way that won't require constant maintenance. How the gate opens and the amount of space available will all be big drivers of the style of gate you choose.
For more information, check out our guide on Choosing a Driveway Gate Style.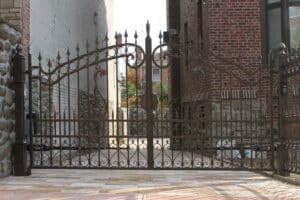 This driveway swing gate utilizes a few simple decorative scrolls, rings, and finials put together to present an elegant, traditional looking design. The fabricator incorporated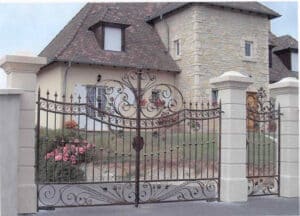 This driveway swing gate showcases beautiful hand forged ornamental panels and scrolls made in Italy. A great example of what these elegant components can bring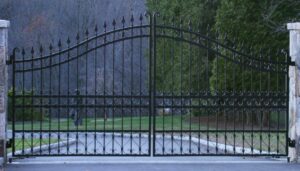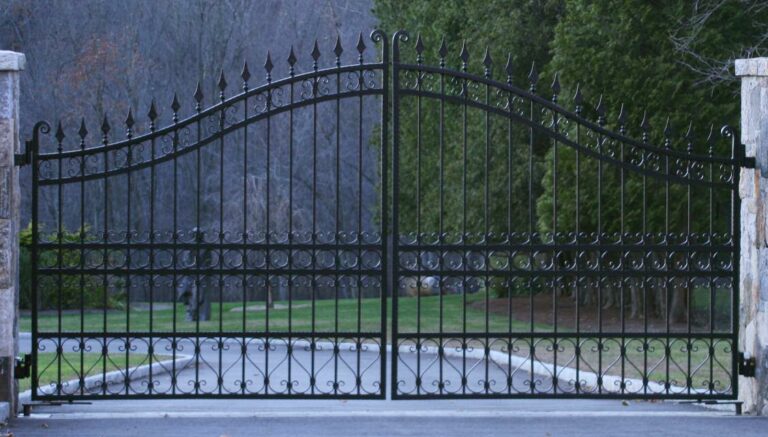 This driveway swing gate is an excellent example of how you can achieve an elegant design with a small number of relatively simple components. This
And as always, one of the things we pride ourselves on at DJA the most is our ability to help steer our customers in the right direction and to the perfect gate solution based on your requirements and limitations. If you're unsure at all about what type of gate you should be considering or just want to know what types of gate hardware are available for your project, please don't hesitate to contact us.
Metal Fire Pit
A metal fire pit can be a great addition to a backyard or patio. If you're going to build a metal fire pit, the most important element to consider before thinking about your design, is safety.
When creating a metal fire pit, it's important to use materials that can withstand high temperatures and are safe to use. Stainless steel or mild steel are popular choices for building fire pits, but other types of steel or iron can also be used.
Materials like galvanized steel, painted or coated metals, and copper release toxic fumes that are harmful to humans and the environment when heated so it's important to steer clear of these materials when planning your fire pit build.
Here are some factors to consider when selecting materials for a metal fire pit:
Thickness: The thickness of the steel or iron used for a fire pit can affect its durability and heat retention. A thicker material will be able to withstand higher temperatures and last longer.

Corrosion Resistance: The metal used for a fire pit should be corrosion-resistant to ensure its longevity. Stainless steel is a popular choice for its corrosion-resistant properties.

Heat Resistance: The metal used for a fire pit should also be able to withstand high temperatures without warping or melting. Mild steel is a popular choice because it has a high melting point and can withstand temperatures up to 1,200°F.

Aesthetic Value: The metal used for a fire pit can also contribute to its aesthetic value. While we mentioned corrosion resistance, there are some people that like the patina that shows with the age of some metals, while others prefer the clean look of stainless steel.

Cost: The cost of the materials used for a fire pit can vary widely depending on the type of metal and thickness selected. Stainless steel is generally more expensive than mild steel, but it may be worth the investment for its longevity and corrosion resistance.
If you have access to tools like a CNC plasma cutter, you can get really creative with the design. Think of things like cutting someone's last name into the sides so it glows when the fire is lit, or highlighting wildlife or geographic areas the recipient (or yourself!) are particularly fond of. These are the details that make a custom fire pit worth the investment over a store-bought option.